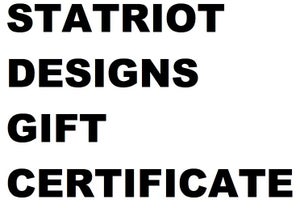 $

25.00
Sometimes, you're not sure of the tastes of your gift recipient. You're not sure if they're a Tres Hombres era ZZ top fan, or an Afterburner type, so you get 'em that gift certificate to Ear Candy, and hell, they can get some Shabba Ranks if they want. You know what we're saying? We hardly do ourselves.
However, we do get the concepts of gift certificates, and will issue them, on your behalf to whomever you'd like us to, and for convenient denominations, enough to buy shirts, stickers, koozies and the like.
Be sure to include instructions to us about whom you'd like us to make this out to, and if you want it sent to them directly and so forth. Otherwise we'll send it to you to give. Folks can use them over the web as well, simply by emailing us through the website, letting us know their unique gift certificate # and ordering away.
Availability
$25 Gift Certificate - 100% in stock

$50 Gift Certificate - 92% in stock

$75 Gift Certificate - 100% in stock

$100 Gift Certificate - 100% in stock

$150 Gift Certificate - 100% in stock